And guess what? The kids don't care!
I know some of you may be vocally challenged like me, and inwardly cringe at the idea of singing in front of other people. That was the part of doing storytime that I was the most worried about and uncomfortable with when I started. Partly because I was emotionally scarred by my son; when he was a baby, he would cry every time I tried to sing to him! Talk about giving somebody a complex.... Twelve years later he STILL hates it if I sing (in my defense, my daughter never reacted like that).
So, needless to say, I was *very* nervous about singing during my first storytime. For that reason, I only did a welcome song and a closing song, and used rhymes & fingerplays for the rest. But, guess what? The kids didn't run away screaming or cover their ears and cry! So, over time I became a little less self-conscious and started incorporating more songs, and I encourage everyone else to do the same! It's good to have a mix of different things, music facilitates language and math development, and kids generally enjoy singing, so don't be shy!
I do have to be very careful about what songs I use. I usually stick with songs to the tune of well-known children's songs that I know I will not forget the tune halfway through, like "Twinkle, Twinkle Little Star," "The Wheels On The Bus," "Ten Little Indians" (I would never sing the very politically incorrect version, but substitute the theme of the day and you have a great little counting song), "Mary Had A Little Lamb," "Row, Row, Row Your Boat," "Are You Sleeping," etc. These are very simple tunes that most people are familiar with, and are easy to pick out on a keyboard, if you were so inclined. Also having recorded music & vocals to sing along with can be a great help, and camouflage not-so-great singing. Be sure to encourage the kids and adults to sing along!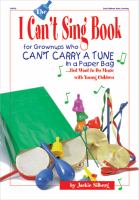 There are other ways to incorporate music as well. You can use bells, egg shakers, or other rhythm instruments, and the ukulele is supposedly easy to learn and used by many children's programmers. You can have them make their own instruments as well. I saw this book at work that would be a great

resource

for those who want to incorporate music, but don't like to sing, called
The I Can't Sing Book: For Grownups Who Can't Carry A Tune In A Paper Bag...But Want To Do Music With Young Children
by Jackie Silber
g. This book has some great activities that would be good to occasionally adapt and incorporate into your programs even if you do get over your stage fright.